Bitcoin Poker with Verajohn.com
Locatedin
Costa Rica, Malta
Bonus
Welcome bonus offer of 100% up to € 500
Languages
English, Chinese, Spanish, Japanese, Finnish, Swedish, German, Portuguese, Norwegian, Greek
Pokergames
Casino Holdem, Texas Holdem, Oasis , Caribbean , Red Dog , Triple Edge , Five Play Draw , 10 Play Draw , Triple Play Draw , Ride'm , Three Card
The website screams video poker! But to my astonishment, they offer a lot in compared to other "casino websites" out there today. Don't let the extreme pink color scheme fool you, they have a wide range of games to choose from. Not to mention they also have BetSoft Gaming powering their games. I was expecting to see video poker scattered around, but I found the exact opposite. Here are the tables I tried out.
Triple Edge Poker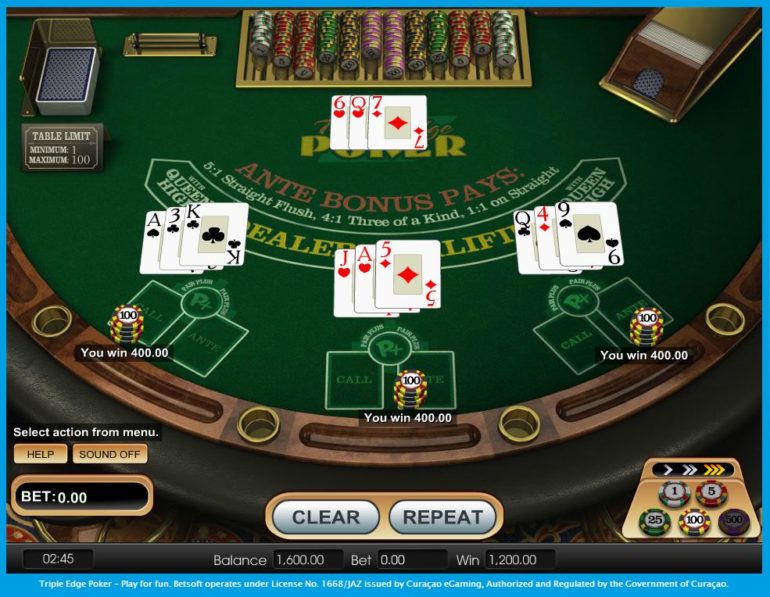 Ante – Choose from 1,5,25 and 100 chips (500 chips are grayed out)
Before you start the game, choose the Ante and decide how many hands you want to play. Yes, you are able to play 1-3 hands at a time. Maximum bet per hand is 100 and the Minimum is 1. Once you have decided how many hands to play, click on DEAL and the dealer will start giving out three cards per hand. After the deals are made, you are able to FOLD or RIDE your hand.
Ride'Em Poker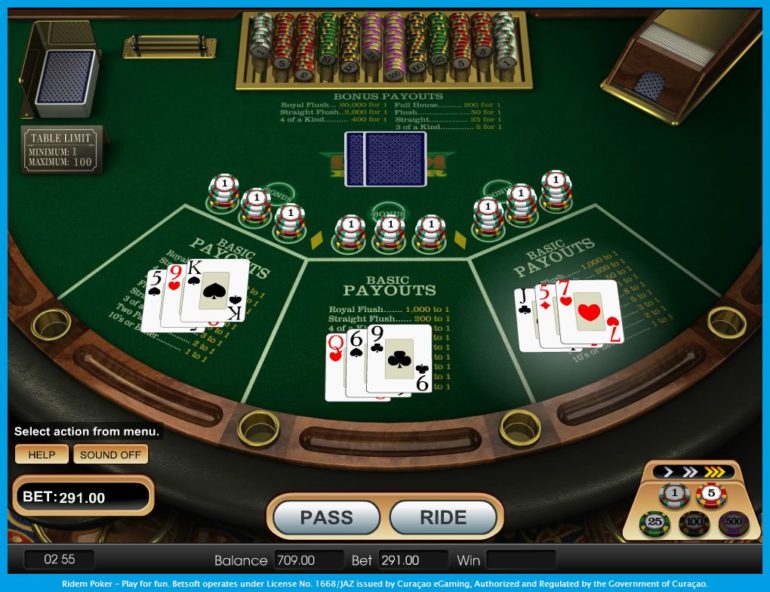 Ante – Choose from 1, 5 and 25 chips (100 and 500 chips are grayed out)
To start the game, just choose your Ante and how many hands to play and you are good to go! The game Ride'Em Poker plays almost exactly as Triple Edge Poker. You can either PASS or RIDE after the dealer gives out three cards per hand.
3 Card Poker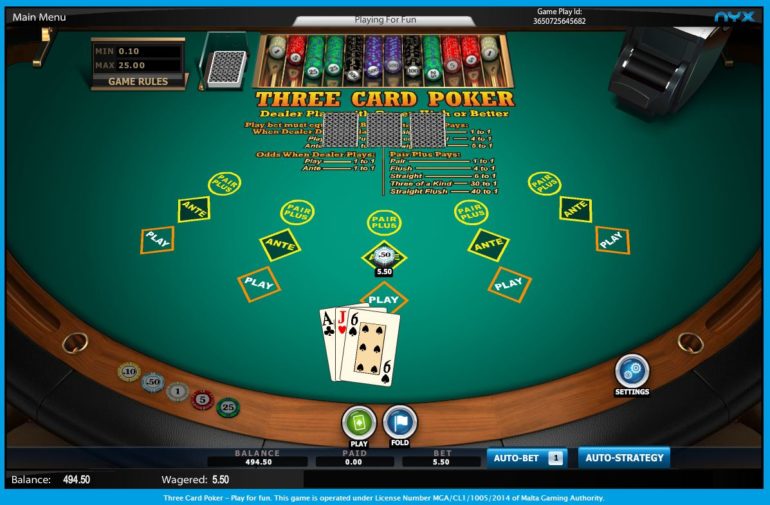 Ante – Choose from 0.10, 0.50,1,5 and 25 (Minimum bet is 0.10 and maximum us 25)
To start the game you just need to choose your ante and click DEAL. The dealer will prompt you that no more bets can be made after you have clicked on the deal button. Once three cards have been dealt, you would be able to PLAY or FOLD at this point. If you play, you add an additional Ante with the same value as your original. If you placed 5.50 on the table you need to add additional 5.50 to PLAY your hand. Playing multiple hands for this table is not available.
The Fun Casino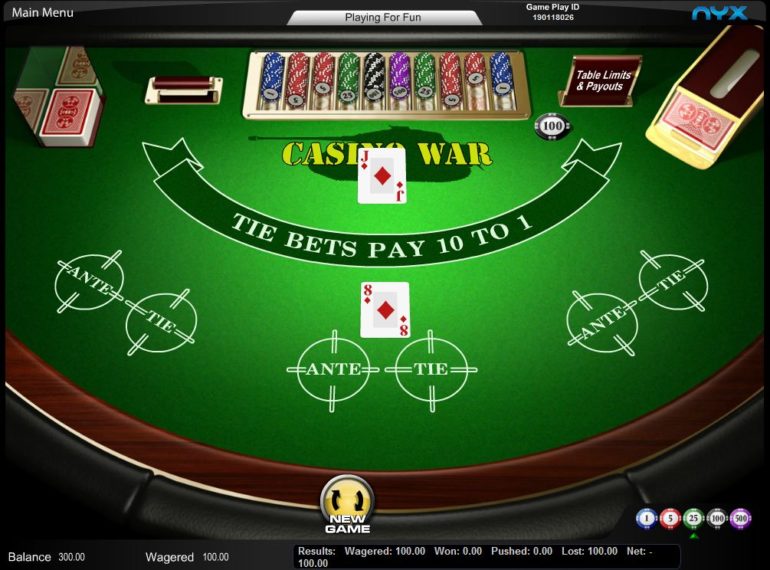 Before you enter the game you need to pick your bet system. You would be able to pick 1.00 to 100, 5.00 to 250 and 15.00 to 500 maximum bets. Since we game big, we will go with 500 Maximum! Once you have decided which room to play with, choose your Ante and you are set to go play some Casino War. The buttons are "Buggy" so try to click on different angles to get your command go through. The game is pretty straight-forward; you just need to beat the dealer's card and you win. This game is perfect for those days that you feel extremely lucky.
Table Games Available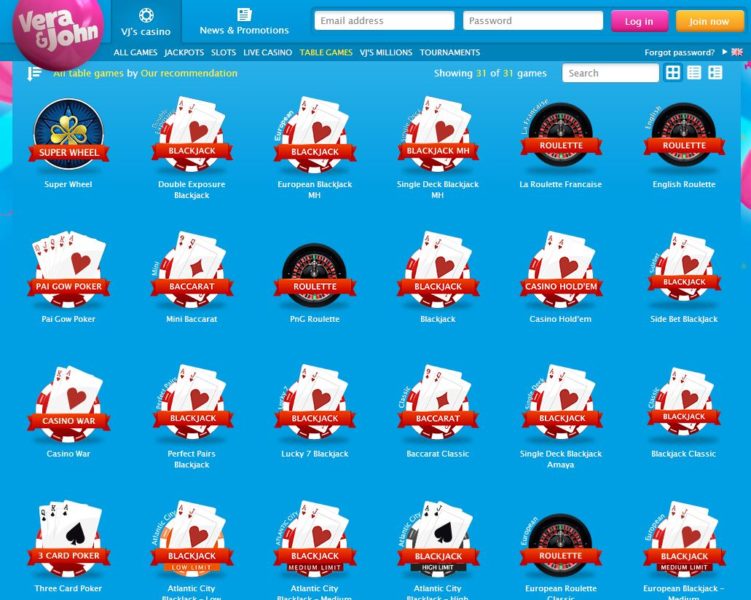 These are the table games that you are able to play with Vera&John
Tournaments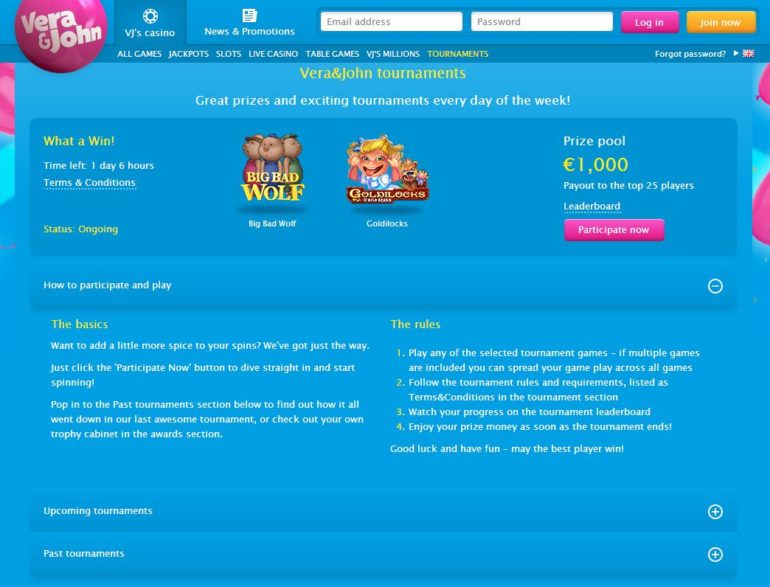 Tournaments may not be that big for you but a good casino website should have daily weekly or even monthly tournaments! This is to give patrons something to look forward to and not bore themselves after a couple of weeks spending money on one certain website.
Conclusion
Verajohn.com is a website with promotions that have promotions that actually work. Did you know that they also offer a chance for your bills to get paid? You can read more about it here. But hey, it might be a gimmick or something, but how many online casinos do you see today paying the bills for you? None. Awesome website if you ask me. Some of the tables might have bugs in them, but all-in-all everything works fine. And the range of games they have is above average.
Bonus
Welcome bonus offer of 100% up to € 500

Located in
Costa Rica, Malta
Go to verajohn.com