Bitcoin Poker with Swcpoker.eu
Locatedin
Curacao, Netherlands Antilles
Software
Webbased, PC friendly
Pokergames
Chinese , Texas Holdem, Omaha Holdem
Support
Email, Social Media
SWC Poker is one of the Bitcoin online casinos out there today. They have a number of increasing tournaments and cash games waiting for new comers that love to play casino games on wherever they are. They have Sit and Go's as well as regular tournaments that you can join in. But in swcpoker.com you are unable to play through your web browser as you need to download the PC client before you can play any of the games they offer.
The main reason why players love to play at this website is that they are able to use the only Bitcoin for transactions. This means that no personal information and documentation is required. You can play your heart's content with the anonymity of Bitcoin usage. The minimum deposit for your account here is 0.01 BTC. Which is around USD $19.00 at the time this review is being written.
With their games, you are able to play NO-Limit Texas Hold'em poker. They also have weekend tournaments held every Sunday wherein it is the largest tournament every week. The buy-in for this weekend event is at 0.25 BTC (250 chips) and the prize pool is a guaranteed minimum of 10 BTC! They also have a loyalty plan which is called "Krill", which a player gains more rewards the higher they are in the Krill level. You can read more about this awesome feature that I personally like here.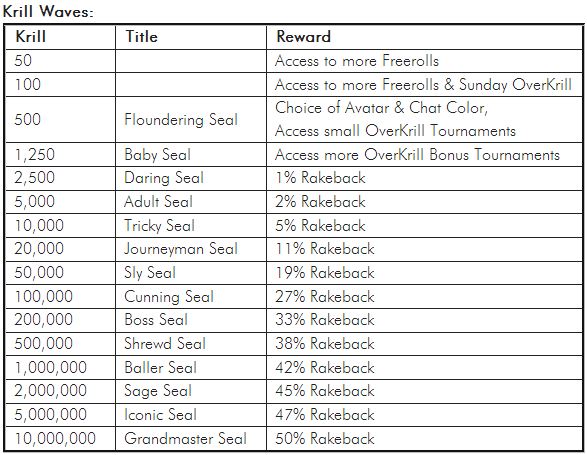 Play Poker with SWC
Since you wouldn't want to download any client just to take a peek at what they have in store for you. We would like to give you a few screenshots of the Poker Tables that swcpoker.eu. Here is also the link for the Poker Game Rules in SWC Poker.
Here is a picture showing the lobby of SWC Poker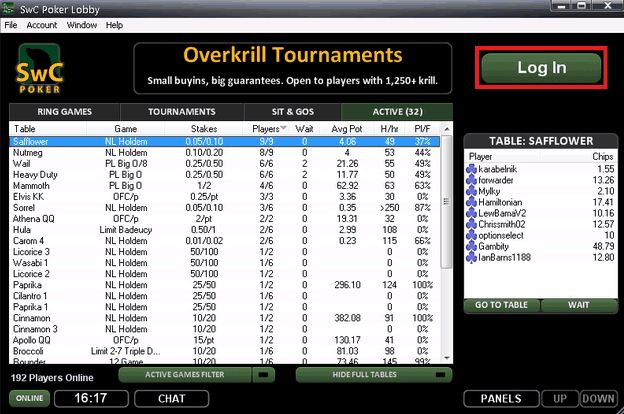 Here is a picture showing one of the Poker Tables of SWC Poker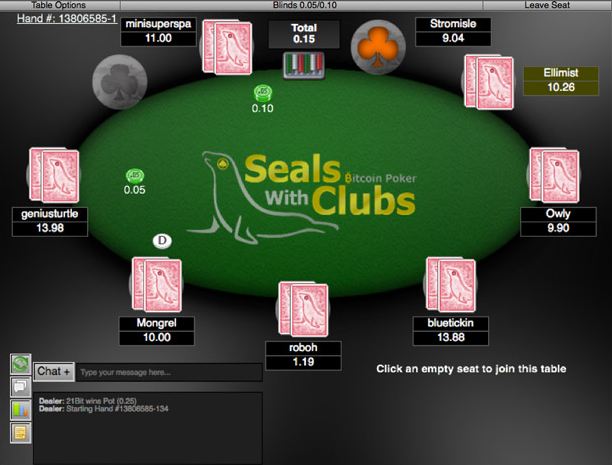 Of course, everything would be useless without the client, right? If you are interested, please follow the steps below.
How to install Swcpoker.com PC Client
To install the client on your PC, click on the link provided below to start your downloading. Or you can read this review first before moving forward.
An in-depth video about the client can be viewed on this video below:
How much do they take back?
Rake – Swcpoker.eu cash rake is very low compared to any other online casinos today. They only charge 1.33% up to 2.5% compared to other websites that reach up to 5% rake.
Additional Information:
Withdrawal time: 6 hours
Player to Player Transfer: YES
Customer Service: YES (Email, response time within 24hrs)
Privacy: YES
2F Authentication: Available
Twitter: YES (Twitter Account)
Conclusion
This website is awesome when it comes to quality of play and support you get from the company itself. They are clearly pioneers of online casino with Bitcoin as a payment method. Despite the fact that they have a "rusty" website, which clearly needs a resurrection; they are an honest company that values player integrity. If they would just take their time to update their website, they can easily be number one when it comes to providing the best online casino Poker experience that can be offered today.
Located in
Curacao, Netherlands Antilles
Go to swcpoker.eu