Bitcoin Poker with BetOnline.ag
Locatedin
Panama City, Panama
Software
Webbased, PC, Mac
Bonus
get a 100% Slots Match Bonus on every deposit of $100 or more
Pokergames
Caribbean , Deuces Wild, Three Card , Texas Holdem
Support
Email, Phone Calls
Are you familiar with the online casino world? Well if you are, I bet you know what this website is doing right? Anyways, let us look into what Betonline.ag has in store for online Poker players like us. In this review we will look into their Poker Tables, available video poker games, how they treat customers and a general idea of how they operate as an online casino company.
To get a glimpse of what they offer, you need to register an account with them first. You are able to do this by visiting the create account tab here. Once you are logged in, you will automatically be redirected to the "Cashier" page; which I do not like personally. I like a website that doesn't force you to pay upfront without doing anything yet. But for some people, this might be useful since they do not need to look for it when they are ready to deposit money. For me, I would like to look around first before going into that.
You can pay for Bitcoin and recently they also accept Litecoin as a deposit option. They also accept traditional ways to deposit which are Credit Cards, WesternUnion via personal transfer, MoneyGram, wire transfer from your bank and they even receive Cashier's Check! That's a lot of options to choose from; it's actually convenient, but is it?
So what I did is that I logged into my registered account and close their cashier's window and head back straight up to Betonline.ag's home page and headed down to their Casino tab.  Here are the Poker Tables that I visited. Sadly you are unable to play all games using "Free chips" but instead you need to deposit real money.
Caribbean Poker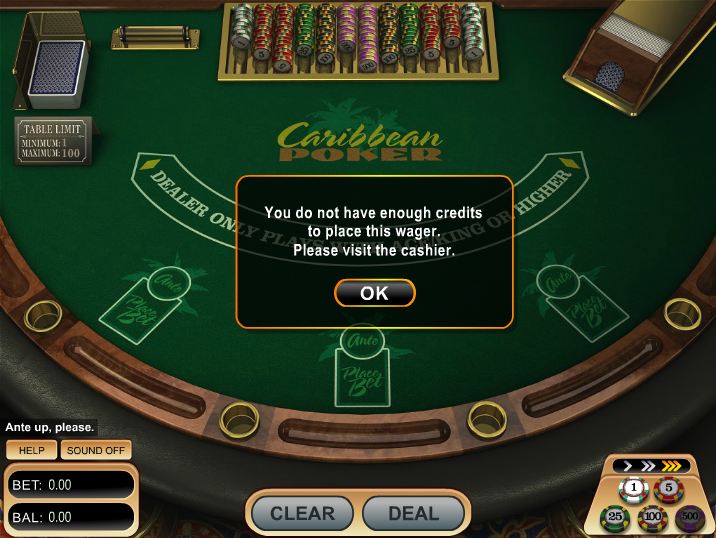 Ante – Choose from 1, 5, 25 and 100 chips(Minimum bet is $1 and maximum is $100)
Three Card Poker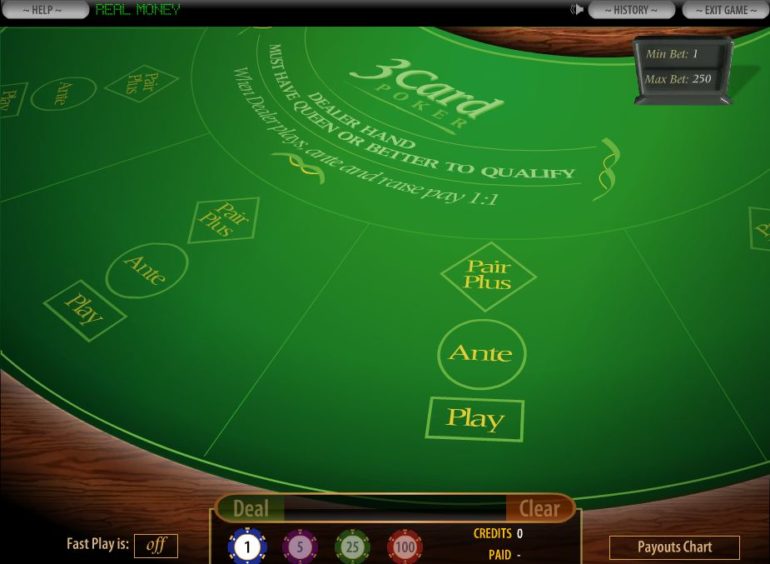 Ante – Choose from 1, 5, 25 and 100 chips (Minimum bet is $1and maximum is $250)
Anyways, you start the game by choosing your Ante and playing it on the table. Since this is a three card poker, the games are fast and you would just need to decide if you fold or play your hand right after the cards have been dealt. A quick way to win or lose your money in seconds; this is definitely one of my favorite Poker games!
Let it Ride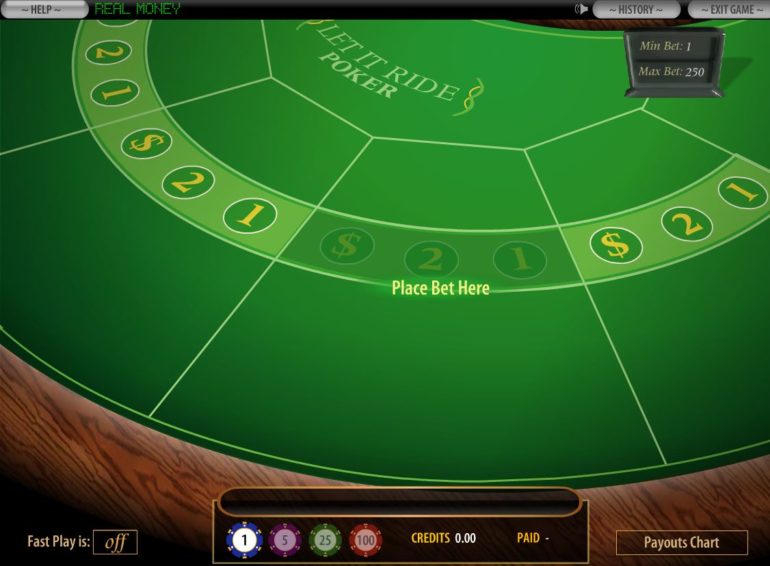 Ante – Choose from 1, 5, 25 and 100 chips (Minimum bet is $1 and the maximum is $250)
To start the game you need to choose how much you want to bet and hit the play button. The dealer will deal the cards and you will be able to choose if you want to ride or pass.
Video Poker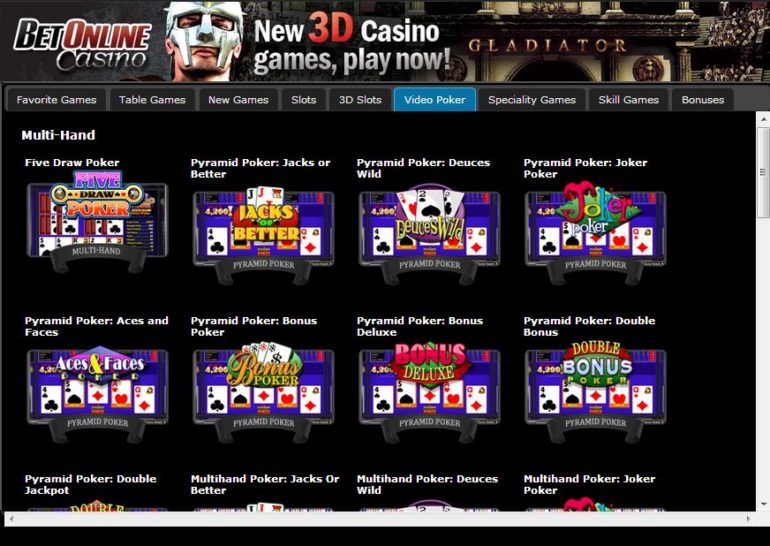 Let us move forward to their video poker choices. They currently have 36 variations of Video Poker to choose from! Now that's a lot! Basically, they have the same titles over and over again but have different machines to play at. This means that you would likely be playing the same game but with different pictures in it.
Alternative Games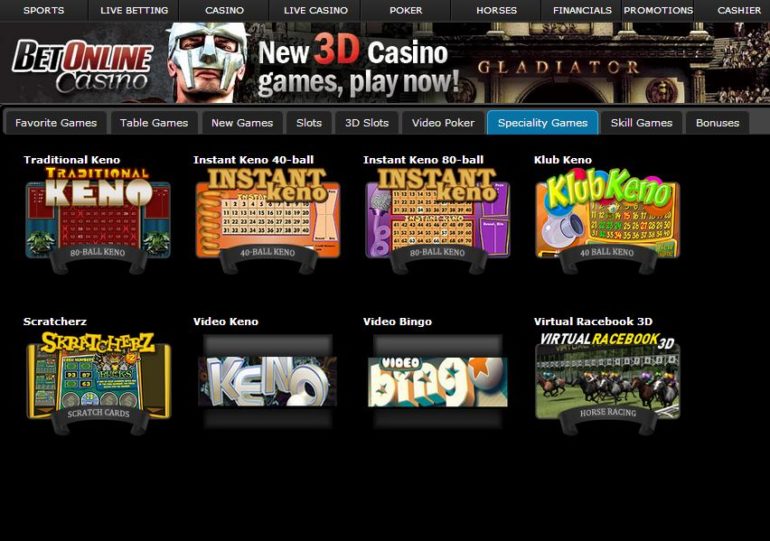 Aside from Table Games like Poker, Baccarat, Blackjack and Video Poker machines, they also have slots, 3D Games, they even got Keno! They honestly do have a lot in store for a person that is looking for a place to win money.
Live Casino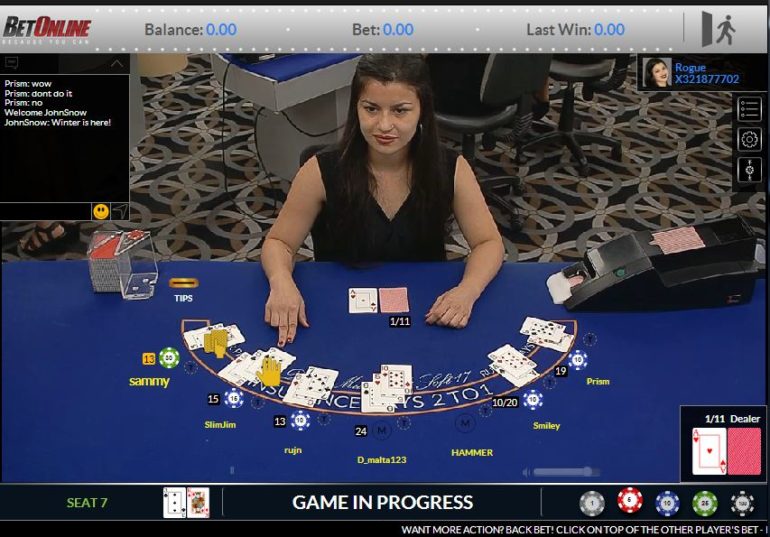 Now aside from the Casino tab that we visited earlier, they also have what is called the "Live Casino." Some people that love to bet online would normally look for a website that has this feature as they like to gamble with real people on the other side of their screens. This is different from their live sports game bets.
In Live Casino, you are able to interact with your dealer through the chat feature installed in every table to choose to play in. So I created a table name and went in as "John Snow", a few minutes watching the live game and the dealer notices my handle name and could not stop giggling. She even said hello, so that confirms that they are live. I even transferred from one table to another and try different dealers just to make sure.
Live Cheating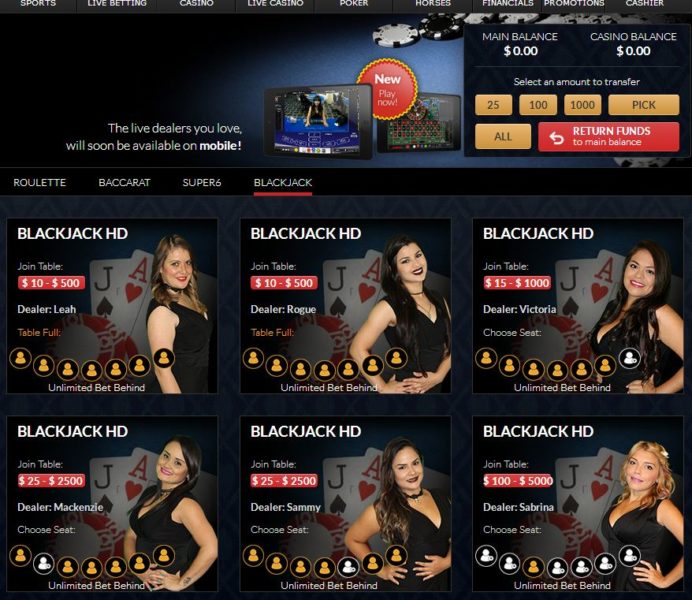 I was dying to share this part with you from the start, but you also need to know their features before knowing what they just recently did. Around January 2017, Michael Morgenstern a YouTuber and he claim to count cards in real Casinos had an online session with Betonline.ag and caught the dealer cheating!
This cheating was done live and he even caught it on a camera. He made a separate video regarding this issue and even called their support hotline number and got some really shady responses from both the agent and the supervisor that got the call. Of course, it is always company policy for customer service representatives to deflect claims like this to email support, but they could have done better in entertaining his issue. It was a real issue and was treated very poorly. For people that are interested in watching the video, I have included it below.
Conclusion
The website has lots of tables and video poker choices to choose from. The only thing that got me was the recent events that happened and was caught on camera. I haven't done a lot of digging after this, but there are a lot of complaints thrown at Betonline.ag, especially in the comment section of this separate review website. Please click on this link to be redirected there.
Bonus
get a 100% Slots Match Bonus on every deposit of $100 or more

Located in
Panama City, Panama
Go to betonline.ag